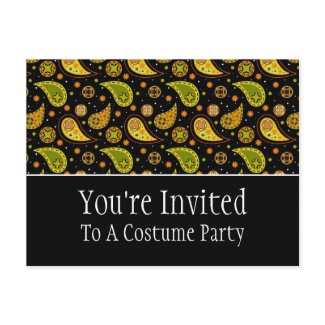 Halloween Paisley Invitation Postcard
In my quest to learn something new I came upon this
tutorial
and thought I might give it a try. I like paisley and I LOVE Samhain so I though why not combine the two? I have to say the tutorial is very easy to follow and if you are learning Illustrator or want to learn something new this is a great site.

The paisley design I came up with (a small portion is shown above) involved two of my earlier designs, you may notice the skull and the spider has appeared before plus a new appearance by a bat. I chose citrus colors against black with touches of white. I think it worked well It wasn't hard to do but it was very time consuming. Perhaps it was because I didn't have a plan in my head, I just went along throwing things together, some worked some didn't. Along with the paisley design I made three seals to go along and compliment everything. While these show up in the final paisley they also stand alone.





Enjoying the process and wanting to practice a bit more I drew the next paisley piece.


Green And Pink Paisley Profile Card
I have noticed that I have been getting stuck using my favorite colors lately and the original design was no exception. After I finished I went back in and chose a palette I would not normally go for. I would like to do another two or three paisley designs and make them in pastel colors or perhaps jewel colors. Something to break up the norm.


.