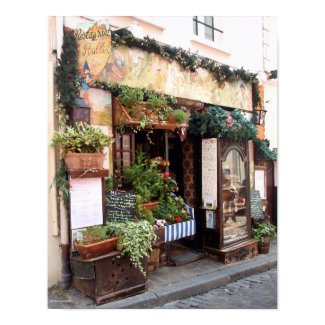 Le Poulbot Print
I have been slowly posting my photographs and artwork on J'adore Paris for you to enjoy. The above is a digital painting of Le Poulbot an adorably decorated and quaint restaurant in the Montmartre area near Sacre Coeur. As my very understanding friend can attest I waited here for a good twenty minutes for people to clear out of the way so I could get this shot. I think she just about gave up when I stumbled upon a snail in the cemetery and waited for 10 minutes for it to come out of it's shell. Hey, I did warn her before hand.
For the Père Lachaise Cemetery 1 Print I laid the camera on the ground and shot upwards looking down the cobble stone path. The day was grey and it was a bit chilly with a warm sun. A perfect day to visit the cemetery. There is a lot of beauty here and a quiet peaceful solitude.


Light The Way was shot in Notre Dame with existing light, camera steadied by a column. The church itself is stunning and no photograph can do it justice by any means. It stands in the very center of Paris and as I looked at it I wondered about all the history that this church has witnessed. I also understood how it could inspire so many to create such works of art such as my favorite book by Victor Hugo "The Hunchback Of Notre Dame"


10% off posters
Shop posters and prints in any of my stores and get 10% off with coupon code: SEMPROMO1007.
Expires 9/30/2009.
More details: 10% discount applies to each qualifying Zazzle poster product. The coupon code SEMPROMO1007 must be entered during checkout to receive the offer. Offer is valid from July 2, 2009 through September 30, 2009 at 11:59pm PT. This offer does not apply to past purchases and may not be combined with any other Zazzle promotional or discount offers. Offer valid on Zazzle.com only and is not valid on Smilestore.com, Zazzle.ca, Zazzle.com.au or Zazzle.co.uk orders.



.