I admit, I haven't been updating here as much as I should but in my defense I have been a bit busy trying to tie up loose ends in my stores. That includes adding to existing designs like my Spring Tulips.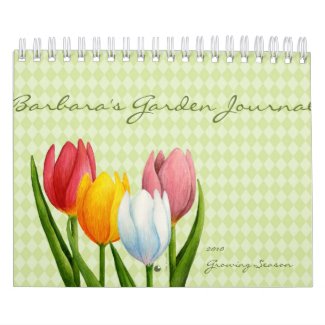 Spring Tulips Garden Journal
The one thing I have always wanted to see Zazzle carry is journals (and address labels but that is a different story) Anyway I decided to take the already existing calendars and make one myself.
I love gardening, I love flowers and all the things they attract. I like mud and the smell of dirt too and I don't mind worms and bugs. I have a very large shoebox filled with little envelopes of seeds, old favorites and new ones on the market. I will try it all although not to full success but where is the fun in that? I am not by any means an expert gardener either, I just love to sit in my backyard on the hammock my dad once sat in and stare at the blooms gently swaying in the wind. I could do that for hours.
Above is a garden journal that I had designed for myself. There is plenty of room for notes, different seeds and plant types and in the back is a few pages set aside for recipes. I have already started filling mine up with my favorite plants that are just waiting for spring thaw. I think if you are a gardener, you just might like it. Zazzle was even kind enough to award it with a
Today's Best Award
.
I added some more products to the Spring Tulips line. I had made this background for a design from my
Pen And Ink
store. I thought it would go perfectly with the tulips. You will find binders and letterheads that can also be used for gardening and a whole array of
matching products
too.

Next thing to tackle is a very outdated website, oh where to begin with that...


.