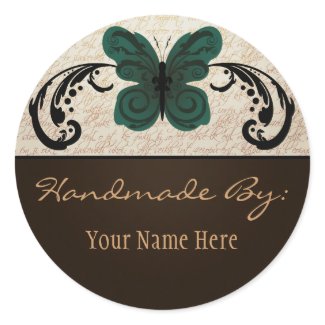 Burned Butterfly Sticker


Latest design on Pen and Ink and 13 Black Cats Designs too!

I began fooling around with brushes and swirls in Illustrator yesterday to see if anything would come of it. I began to randomly draw swirls and they started to take the shape of a butterfly wing and so a butterfly was born.

After getting one side of the wing finished I had to expand the brush strokes so I could reflect it to the other side. I drew the body using circles and ovals and tied it together with a solid wing behind the swirls.

Originally I was going to do a monarch type butterfly in orange but when I opened it in photoshop it just wasn't working. I accidentally fell upon a teal color when randomly clicking around the color box. (Art is so precise isn't it?) Once the teal color was chosen I thought I would set it against a dark brown so I made a background, added the noise filter and then crosshatched it to give it a bit of a vintage look. The butterfly was still a bit too bright so I change it's opacity to Color Burn, merged it with the brown background and gave it a bit of a glow.

Since this design started to develop a vintage feel to it I made a background like an old newspaper. First I started with a cream background and burned the edges, added a slight bit of noise and applied a monotone color of brown to age it. I typed some random letters to fill the page and changed the opacity to overlay and then 50%. merged it down and there you have it, old newspaper! The full line can be found on Pen And Ink and a variation of it can be found on 13 Black Cats Designs.

From Pen And Ink:

From 13 Black Cats Designs:



.