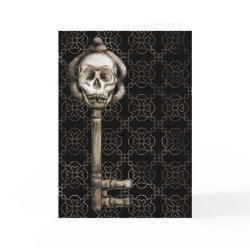 Skeleton Key Card
by
13BlackCatsDesigns
MORE
Skeleton Key Products
on zazzle.com



It is always a nice surprise when Zazzle picks you for a Today's Best Award and this morning's little doodle won the honor. This skeleton key has been bouncing around in my head for a while and it finally decided to come out. It is a quick little doodle I made in my sketchbook this morning with a graphite pencil.


The background is one of my designs that is for sale on Say It With Color. I opened it up in Photoshop and then made a grey scale version and a sepia toned one for a more vintage look. The key itself was scaned in and one version was sepia toned as well. So far it has been well received and perhaps I shall think of a few more to sketch. You never know what the cat will drag in around here and what will pop out of my head at any given time.



AND TO MAKE THINGS BETTER Zazzle is offering a great coupon deal for free shipping ANYWHERE!


To qualify for this free shipping offer, one or more Zazzle products must be purchased. The coupon code JUNESHIPFREE must be entered during checkout to receive the offer. The free shipping offer is for standard (or economy if standard is not available) shipping. Shipping charges will apply to oversized orders and orders being shipped on an expedited basis. Offer is valid from June 19, 2009 at 12:01am PT through June 30, 2009 at 11:59pm PT. Your order must be placed during that time to qualify for this special offer. This promotional offer does not apply to past purchases and may not be combined with any other Zazzle promotional or discount offers. Offer is not valid on Smilestore.com.
.