Well maybe not yet but it is coming fast. The one tradition I like about the holidays are cards, no not because I sell them but because I like being able to catch up with people that may have slipped by during the year. It is always nice to get a card in the mail and to know someone is thinking about you. It is such a little thing and doesn't take that much to do. When I send cards out I like to go all the way. A card with a personal greeting inside, a few sentences long usually in colored ink and nicely written in my neatest handwriting. A little rub of some cinnamon to make the card smell nice and finished off with matching postage and a sticker seal then mailed with personalized address stickers I make on my computer. Before I started selling cards myself I used to hand make them and it was a big project, now I order them myself.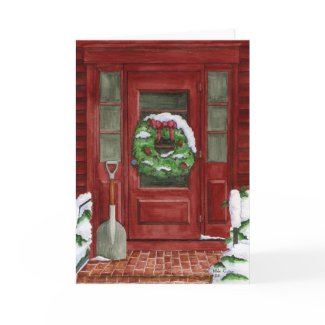 Holiday Door Card
This year I have chosen to send my Holiday Door card. It happens to be a painting of a photograph I took back in the early 90's. It is a real door and yes the house and door are really red. It was a snowy day in Maine and I was passing through a small town when I snapped the photo. I painted it exactly as it was at that particular moment in time. It was very cold that day but the door was inviting.
One of my most popular designs, holiday or otherwise is my Holly Leaves Postage Stamp. I am blown away as to how popular it is so I decided to add to the line and design more cards and an invitation too. They come in several sentiments and can be changed, even the font and color if needed or they can be added to as always.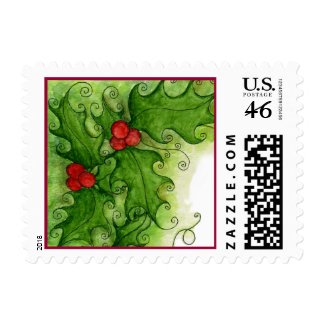 Christmas Holly Postage Stamp
I do have many designs, perhaps you might like them or maybe you would just like to look around - please feel free. I have also released two new holiday designs. One is
Santa's Belly
and the other is
Nutcracker King
.
.